🥁 We're rolling out the red carpet 🥁 … for the Webinar Oscars!
Actually, it's more like a mash-up between the Oscars and Rotten Tomatoes because, let's face it, there's a lot of BAD webinars out there at the moment.
But if virtual events really are here to stay, then it's best we learn from both the good and the bad to make sure our webinars are top notch!
So that's what we'll be covering in this article:
The

best webinars

out there right now, and

who's running them

Why they work and

what we can learn

from them

Who's missing the mark and

what to avoid
Here's the outline so you can click around if you so wish!
A bit of context

If you've stumbled across this article and are wondering… 'what the heck is this all about'? Then here's a bit of context to help set the scene.
It's June 2020.
We're in the middle of an 'unprecedented' global pandemic and marketers all across the world are seeing their conferences and events cancelled.
So what do they do? They turn to webinars! Well, they've got to keep generating leads, no?
But there's a problem.
Webinars haven't changed in what feels like decades.
And I'm bashing my head against a wall, screaming 'NOT ANOTHER BLOODY WEBINAR' (I actually said that over on LinkedIn btw).
Enter stage left an ex-colleague and friend.
She challenges me to do a webinar a day for 30 days. In the vain hope and search of seeing who's doing it well and who's making a hash of it.
30 days later:
Topics covered: Marketing, Content, Startups, etc. ('cos that's what I do and it needed to be semi-interesting!)
50/50: Live and Recorded sessions
Hosted by: big companies, solopreneurs and everything in between
The 'Webinar Oscars' is Part 1 in a 3-Part write-up of my 30 Day Webinar Challenge.
Part 2 is here; Part 3 is here.
So, without further ado… let's get on with the show!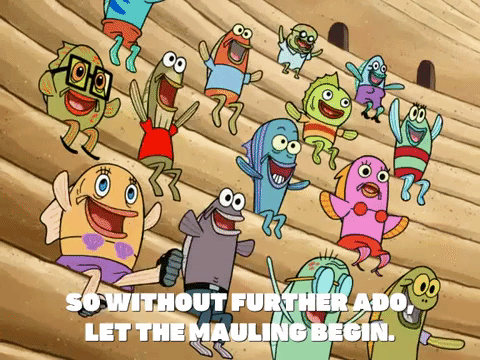 And the Oscar for… 🥁🥁🥁
One of the most important things in any webinar is getting your pre- and post- webinar activities nailed.
Your build-up helps to maximise your chances of people actually attending (yes, they may sign up, but that's no guarantee they'll turn up).
And your follow-up helps to further engage your audience with useful content that may even convert them to a lead at some point.
So, to get us warmed up, our first Oscar is for
Best Build-Up
And this goes to…🥁 🥁 🥁 PRODUCT-LED SUMMIT
Why? Because they did a great job of building up excitement and anticipation of what was to come.
They did this mainly through video snippets and tasters of the speakers and presentations.
My favourite was the registration confirmation email that you see below – it included a lovely little Vidyard video from Wes Bush, the organiser.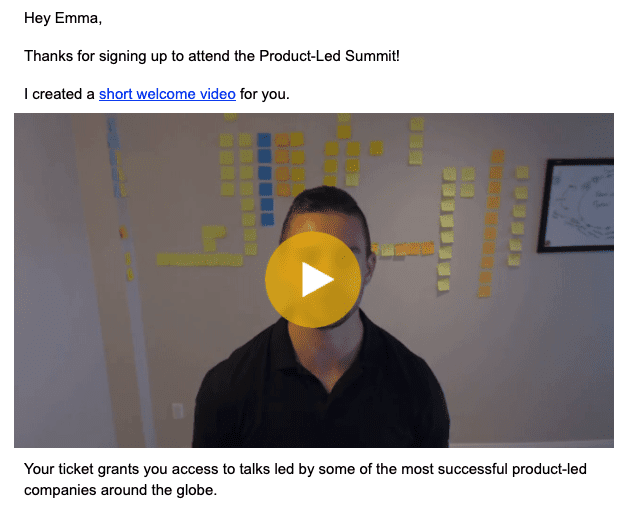 Now, unfortunately the summit itself didn't really live up to the hype – I attended a few different sessions and frankly, they were hit and miss.
Yes, there were 'hundreds of speakers, thousands of attendees, and hundreds of hours of content recorded during the Product-Led Summit' (this from one of the follow-up emails). But is that necessarily a good thing?? Personally, quality over quantity.
Which leads me on to…
Best Follow-Up
And this goes to…🥁 🥁 🥁 LINKEDIN, with a highly commended for HUBSPOT
Why? Well, LinkedIn did a great job of sharing useful resources in their follow-up email – stuff that actually related to the webinar topic, that made sense as a next step, and that was completely free and ungated.
Similarly, HubSpot did a non-aggressive upsell in the form of a 'Free Content Marketing Assessment'. Note it wasn't a product demo but an assessment. And you could book it directly from the webinar page as you can see below.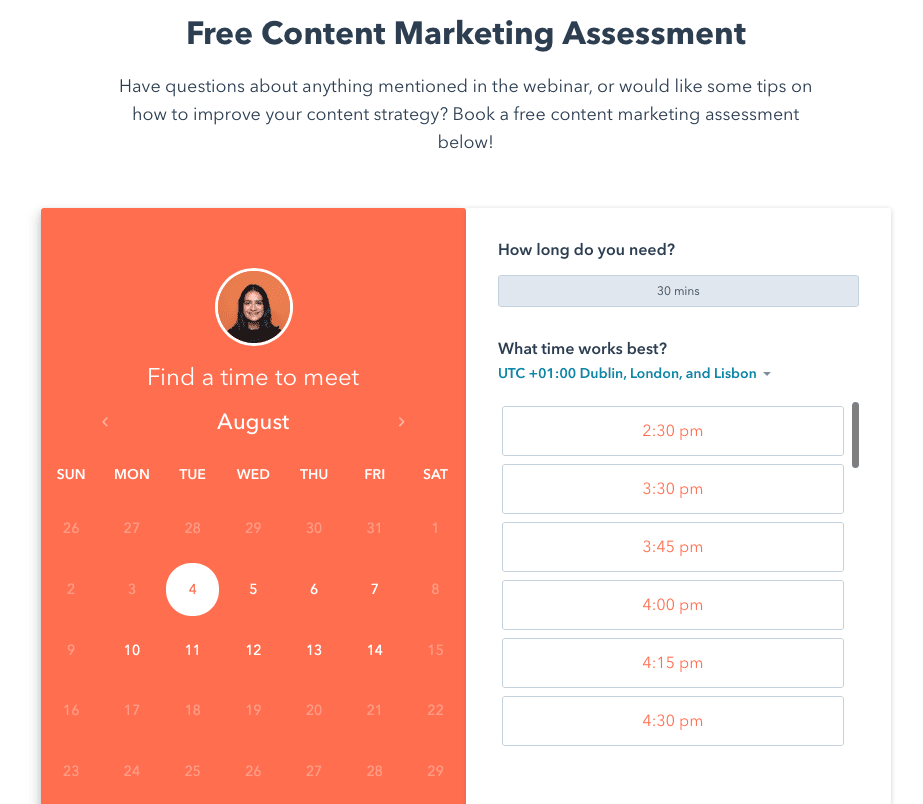 The Rotten Tomato
So who's making a hash of this? Who deserves the rotten 🍅 ?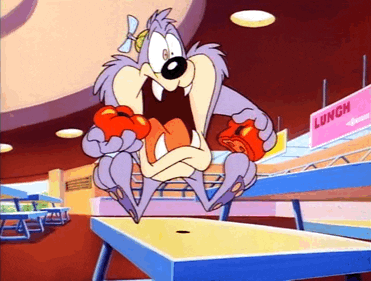 SALESFORCE
Yep, I'm afraid that Salesforce did a really poor job here.
Why? Because just a few minutes after registering for one of their webinars, I had a sales person email me, noting my 'interest in their marketing product' and would I like a demo?
I politely replied and pointed out that I had merely registered for a topical webinar, which as far as I was aware, didn't include a product per se.
They replied again saying they had some great end of quarter deals coming up, was I sure I didn't want a demo and to discuss this?
Erm, no.
Sorry Salesforce, for all your brand and budget, you really should be doing better than this.
(Maybe check your lead scoring on webinars).
Our next set of awards cover off the content of the webinars themselves, and, by association, audience engagement.
Best Content
This award goes to…🥁 🥁 🥁 MIKE KILLEN
Why? Because he uses whiteboarding in his webinars and videos. That's right – no slides, just a whiteboard.
Here's an example.
Now, in case you're wondering who this guy is, you can check out his profile on LinkedIn here and his website here.
He runs a lot of these things and his secret is not relying on boring static slides, but rather engaging whiteboarding content that frankly more of us should be doing in our webinars.
In terms of the more traditional slide route though, the best I saw across the 30 days was from Rachel Barber on a CMA webinar.
The slides were bright, they covered really tangible examples and Rachel herself was really animated in delivering the content for a memorable experience.
Best Audience Engagement
The award for best audience engagement goes to…🥁 🥁 🥁 TURTL
Many marketers will know of Turtl already – and their recent Coffee Chat series has been great.
The trick with audience engagement is to cater for different personalities.
Too much and you risk scaring people off.
I was on one webinar that 'surprised' the audience with Zoom break-out rooms, and there were promptly quite a few people that dropped off at that point!
What Turtl have nailed though is 'just enough audience engagement' through the use of Mentimeter.com polls and questions, a variety of content and stats that get the audience thinking, and a bit of light banter between the two presenters.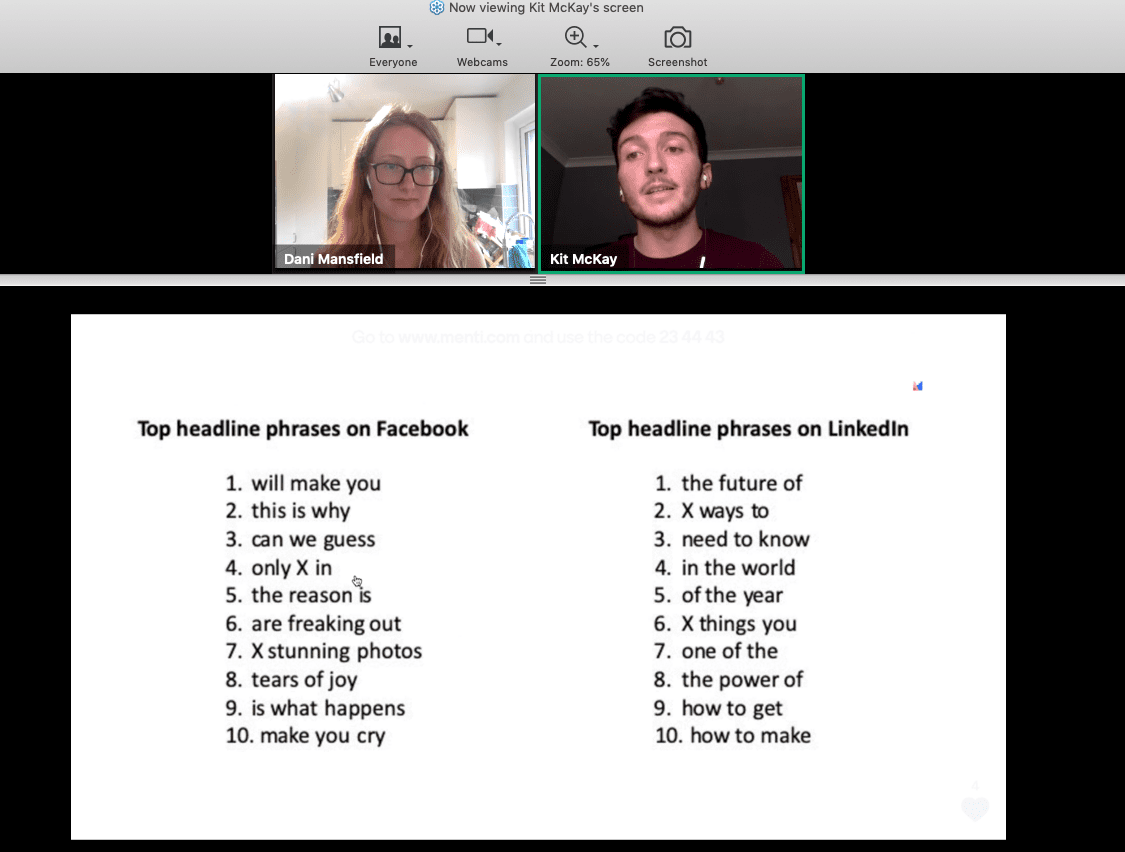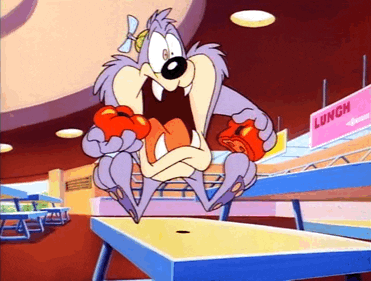 I umm'ed and ahh'ed about calling this one out because I know how difficult webinars can be, believe me.
But, all in the name of learning what not to do.
This one goes to ACTIVATENM
Again, probably one you've not heard of so I'll summarise just why it was so bad.
The slides were packed with text and just visually unpleasant.

There was no audience interaction – in fact, the chat function ended up being the other attendees selling their own wares to each other!

The delivery and content were honestly quite patronising. The title was '

Startup Retool Series: Marketing in the Next Normal', but it felt like marketing 101 with little structure and lots of jumping around.

It went on far too long – I actually ended up leaving early!
There's a second Rotten Tomato here.
And it goes to BIG BUTTON
Why? Well, if your core service offering is video creation, and the title of your webinar is '5 tips to improve your b2b video content immediately', then you'd think some actual video content would be included, right?
Wrong.
Besides that, the slides themselves were pretty bad – I think a ten year old could have done a better job.
Honourable Mentions
Before we move on to the main gong for BEST OVERALL WEBINAR, I wanted to do a few honourable mentions.
Think of them as best practices in addition to all of the 'Best' awards we've already covered.
BEST WEBINAR PLATFORM
I'll be covering this in more detail in Part 2 of my write-up, including not just the platforms themselves but some fun tools you can use for polls, quizzes and even goats!
To be honest, the platforms themselves are much of a muchness.
But my favourite from a viewer perspective was WEBINARNINJA.
It also rates highly for the organiser too. Here's what Christina, founder of ContentUK had to say,
"Webinar Ninja has a lovely interface from the host's side. Handy ability to add polls, and a separate question section to the general chat box."
👉👉 And for tips from the CEO of WebinarNinja himself, check out this Twitter thread where Omar Zenhom talks through his TOKYO method and the importance of building trust.
MOST MEMORABLE
I couldn't not mention a great webinar I attended by The Marketing MeetUp.
In fact, the build-up and follow-up emails were great too – really personable, fun and friendly; not just the standard, pre-built reminder templates you get in the likes of Zoom!
But the reason for this one in particular being memorable was they coupled a presentation from Andy Lambert of ContentCal with a story from Martyn Sibley of Purple Goat Agency.
It was heartfelt, warm and memorable – something Ann Handley always preaches in her storytelling advice!
Another tip on being memorable that I loved from LinkedIn was using backgrounds to place your speakers in unexpected settings, like the top of a mountain or on a beach.
It's a great way to drive curiosity and avoid the boring office backgrounds we're all so used to now seeing!
MOST RANDOM
Of course, another way to be memorable is to be completely random with how you do things.
And so that honourable mention undoubtedly goes to Olly Meakings of Roast My Landing Page.
On the 9th July, Olly did a marathon 4 hour YouTube stream with live 'landing page roasts', Twitter diversions and more.
Granted, it's not your average 'webinar' but it was engaging, funny and really useful too – and why can't we change up the webinar format just a little bit. Boy, it needs it!
Another 'not quite webinar' virtual event I attended was Tempo Bingo. Great fun and an awesome brand activity too. Went on a bit if I'm being 100% honest, but again, it's worth a mention for thinking a bit more creatively about how to run webinars in general.
Best Overall Webinar
Finally, to the one we've all been waiting for.
Who will win the coveted title of BEST OVERALL WEBINAR (sorry, no actual prizes).
And the award goes to… 🥁🥁🥁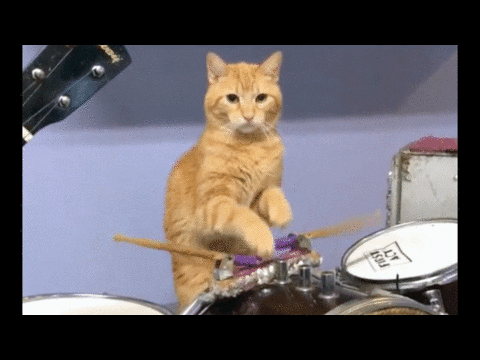 …TURTL !! 🎉 🥳
Why? Just check out their Coffee Chat series to find out for yourself.
In a nutshell:
They understand their audience (marketers, content creators) and delve into topics of actual interest (messaging, headlines, emotional hooks).

The length is perfect – 30 minutes a session.

The email reminders are original. My personal fave was for the first session where the two presenters tried to high-five each other virtually! (See the video snippet below).

The content itself is great – with actionable advice and some humorous stats.

They make great use of

Mentimeter.com

to engage the audience through polls and questions.

The interaction between the two speakers is fun and light-hearted, and you can see their faces.

And there's no silly bios or product pitches at the start or end, they just get stuck in, cover the content, job done!
So there you have it.
30 Days of Webinars, 42 Webinars actually attended (I got a bit carried away!), and a lot of good, bad and ugly stuff we can all learn from.
For the good, I'd definitely recommend checking out some of the examples above.
For getting all techy with Webinar Software, Tools and more, check out Part 2 of my write-up here.
And for the best bits all assembled together to form the perfect webinar, check out Part 3 here.
A WORD ABOUT THE BASICS
Before signing off, a word about webinar basics.
No webinar, no matter how sophisticated or engaging, will run successfully unless you master the basics.
There's more on that here if you fancy a read.
And here's also some exclusive advice from the Co-Founder of webinar platform Whereby:
"My Top 3 Tips are:
Prepare well; have a well-structured presentation or talk ready and rehearsed, and do a prep session with any external speakers to make sure they are well-prepared and have all the tech working.

Make the audience engage; encourage people to submit questions in advance and during the conversation, to touch on the topics that people are interested in

Follow up and remind people in advance to make sure they don't forget, and to get as good a turnout as possible."
Ingrid Odegaard, Co-Founder & CTO, Whereby
Thanks for reading!